Bitcoin has continued to roar higher after our last market update. As of the time of this article's writing, the cryptocurrency trades at $11,400. This is the highest price the asset has traded in approximately a year.
This latest move higher is convincing bulls that bulls are in control after months of consolidation.
Minutes ago, Bitcoin crossed $11,000 for the first time in over a year. With money rushing in, the price of the asset reached as high as $11,450 on leading margin exchanges and slightly below that on spot markets.
Millions Liquidated as Bitcoin Shot Up
According to Skew.com, millions of dollars worth of Bitcoin short positions were liquidated during this latest move higher. The firm's data suggests that $30 million worth of BTC shorts were liquidated in the past hour. This adds to the $100 million liquidated in the past 36 hours.
This suggests that there were many short positions expecting the asset to retrace after it failed to surmount $11,000 earlier today.
While Bitcoin buyers are seemingly in control, it's worth pointing out that the market is getting rather leveraged. The funding rates of BTC futures markets on leading exchanges are stretching well into the positive.
More Room to Rally
Analysts remain extremely optimistic about Bitcoin's prospects after the ongoing surge. One trader shared the chart below of BTC's macro price performance with the one-week relative strength index (RSI).
The analysis suggests that the RSI is reaching full-blown bull market territory:
"The previous Bitcoin bull market started when we flipped the weekly RSI 60 from resistance to support. Every time we dropped below the weekly RSI 60, it was a perfect buy-the-dip opportunity. What if this happens again? Right now, we are trying to crush the RSI 60 line…"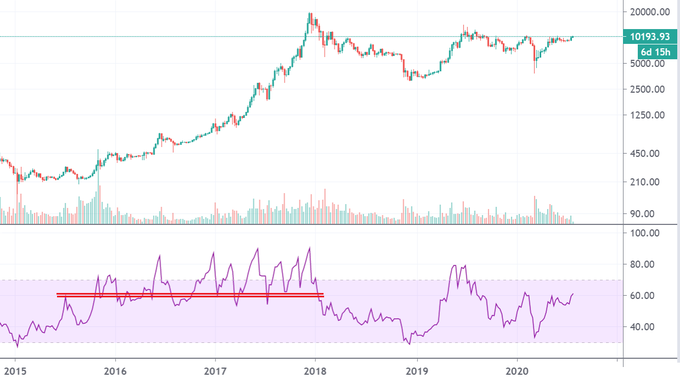 Featured Image from Shutterstock
Price tags: xbtusd, btcusd, btcusdt
Charts from TradingView.com
Bitcoin Explodes Past $11,000, Liquidating Dozens of Million Off BitMEX
Source: https://bitcoinist.com/bitcoin-explodes-past-11000-liquidating-dozens-of-millions-off-bitmex/?utm_source=rss&utm_medium=rss&utm_campaign=bitcoin-explodes-past-11000-liquidating-dozens-of-millions-off-bitmex