Bitcoin has seen explosive price action over recent days. As of this article's writing, the asset trades for $11,200 — more than 10% higher than it was 24 hours ago.
The recent price action was expected by many market commentators.
Though, data suggests that there were also many Bitcoin traders liquidated, suggesting they weren't expecting the asset to move so fast.
Data suggests that there was over $500 million worth of Bitcoin leveraged positions (both long and short) liquidated in the past 24 hours.
Hundreds of Millions Liquidated as Bitcoin Erupts Higher
According to a crypto trader, over $500 million worth of Bitcoin short positions liquidated across all BTC derivatives platforms. The trader came up with the following list:
Binance: 126 Million
Bitmex: 124 Million
Huobi: 102 Million
OKEx: 95 Million
Bybit: 52 Million
Deribit: 13 Million
Another trader noted around the same time that nearly $740 million worth of Bitcoin short positions have been liquidated over the past two days. This adds to the ~$210 million worth of long positions that have bit the dust, partially due to rapid pullbacks as this market remains volatile.
Longs Are Overextended
Despite the extreme strength in the price of Bitcoin, there are some that think longs are getting overextended.
As reported by Bitcoinist previously, one analyst commented that Bitcoin may not yet be bullish due to the high funding rates on all futures platforms.
The funding rate is the fee longs pay shorts to keep the price of the future close to that of the index/spot market.
"As soon as the price has broken 10k, fundings have skyrocketed across all exchanges. This is NOT a bullish sign."
As of the time of this article's writing, longs are paying shorts approximately 0.1% every eight hours on BitMEX. This may not sound like a lot until you realize that these markets are leveraged, meaning one's position can be chipped away at over the course of a few days.
That same trader shared in a separate analysis that he thinks unless Bitcoin manages to hold above $10,500 on a macro basis, he is not yet bullish.
Image Courtesy of il Capo of Crypto. Chart via TradingView.com
More Liquidations On Its Way as Bitcoin May Rally Higher
Some think that more liquidations are probable as the Bitcoin investment case remains bullish.
One trader recently shared the image below of BTC's macro price performance with the one-week relative strength index. The analyst suggests that this market could enter a full-blow bull market:
"The previous Bitcoin bull market started when we flipped the weekly RSI 60 from resistance to support. Every time we dropped below the weekly RSI 60, it was a perfect buy-the-dip opportunity. What if this happens again? Right now, we are trying to crush the RSI 60 line…"
Where BTC rallies to, though, is not too clear.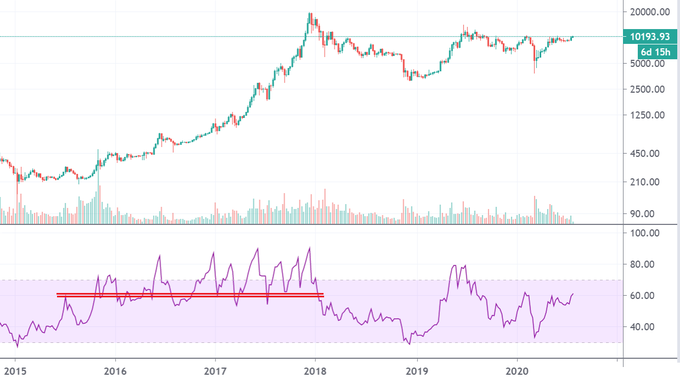 Image Courtesy of Bit Harrington. Chart via TradingView.com
Featured Image from Shutterstock
Price tags: xbtusd, btcusd, btcusdt
Charts from TradingView.com
The Cost of Bitcoin Surging 15% in 24 Hours: $500 Million in Liquidations
Source: https://bitcoinist.com/the-cost-of-bitcoin-surging-15-in-24-hours-500-million-in-liquidations/?utm_source=rss&utm_medium=rss&utm_campaign=the-cost-of-bitcoin-surging-15-in-24-hours-500-million-in-liquidations